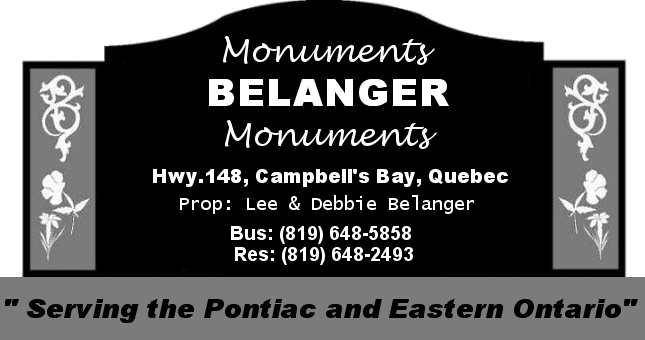 Eric Belanger (Ikey) established Belanger Monuments in
1964.
Since his death in 1984, his wife Gladys and son
Lee have
continued to operate the
business.


Lee and his wife Debbie have recently taken a further
step by opening a display office conveniently
located on Hwy. 148 in Campbell's Bay, Quebec, to
better serve the Pontiac
and the growing demand offering a full service
monument company.

We
take pride in offering quality workmanship and have been
dealing
with the same company (Kinkaid &
Loney Monuments Ltd.) who were established
in 1947.

We
guarantee all our work and offer
sales in granite
markers and bronze
plaques, installation, lettering, cleaning
and repairs, all at competitive pricing.

In
addition to these services, custom
in-house designed
monument floral
arrangements are also available.

Please
stop in or call us for more
information about the monuments
and services we have to offer .
Contact
us in person,
by phone, or by mail.

P.O.Box
98
Campbell's Bay
Quebec
JOX 1K0