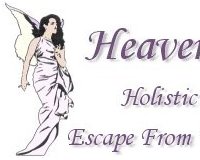 At Heavenly Escapes Holistic Healing Centre
we focus on
balancing the body, mind and spirit. Our experienced staff
of practitioners have a variety of treatments available,
ranging from Relaxation Massages, Reiki, Reflexology,
Crystal Reflexology, Angel Therapy (IET), Holistic
Esthetics, Yoga and Meditation.

Reiki
A non-invasive ancient treatment Tibetan healing art based
on the principles of transferring the universal energy that
flows through all living things in the universe.
Esthetics
Pamper your spirit with personalized Swedish,
Lymphatic, Energy or Hot Stone Massage
and Holistic Esthetics.
Aromatherapy
The enhancement of body, mind and spirit through the use of aromatic, botanical

essential oils.
Professional Foot Care
Take the first step to healthy feet. Practitioner gentle, natural
treatments to restore health
to your feet, restoring balance. House calls available.
Music and Crystal Energy
Treatments
Music and crystal combine to open the Seven Chakras
of the body to awaken the positive energy of evolution.
Reclaim your personal power.

Feng Shui
An ancient Chinese practice based on principal of design,
ecology, architecture, mysticism and common sense.

Colour Therapy
Colour Therapists can maintain body vibrations to
frequencies including health, balancing of the body,
mind and soul.
Reflexology
A natural healing art based on principals that there are reflexes in
the hands and feet that
correspond to every part, organ and gland in the body.
Intuitive Counselling
Do you need to make good decisions? Counselling can open the door to freedom
and peace.
The journey to become what you might have been awaits you.
Angel Card Readings
To provide authentic personal angel readings,that bring spiritual clarity
to reveal sacred possibilities in the now moments of life.

Angel Therapy
Obtain personal growth, Angel Therapy
facilities healing at all levels of your being.

Angel Giftware
Hand crafted angel ceramics, angel art,
angel greetings cards, fairy giftware and
many unique gifts.

The Holistic Centre and Retreats are held outside of Renfrew, in the country,
on 66 beautiful
acres of countryside. The land has a wildlife filled forest, with meandering
nature trails, that
pass by babbling brooks and meadows. Our rustic retreats can be customized
to your needs
and requirements or you may choose from one of our Retreat Packages.
We have a variety of indoor and outdoor treatment rooms, as well as out door
dining areas,
showers, outdoor facilities, and meditation and yoga areas.
We are 60 minutes away from Ottawa, less than 5 minutes away from an Ottawa
River boat
launch.
Sometimes it's important to be still and at Heavenly Escapes you can allow
yourself to get
back to nature and see the star-filled sky or watch the sunrise over the
meadow.
Retreat Packages :
Energy Retreat
Diva Retreat (2 Days)
– Reiki Levels 1 and 2
– Yoga and Meditation
– Energy Massage
– Renew Yourself
– Massages, Body Work
– Yoga
– Reiki
Jennifer Johnston
4493 River Road
Renfrew, Ontario
K7V 3Z8, Canada

Phone …. (613) 432-5879
Fax …….. (613) 432-4492

A Haven For
Your Body, Mind
and Spirit.